Ukon™ Commission
Kangen Ukon™ is MORE than a healthy, powerful dietary supplement! It is also an OPPORTUNITY for Enagic® distributors to discover true financial health with an additional income stream.
Enagic® has designed the Kangen Ukon™ DD Program to work WITH your Kangen Water® business and help promote you faster. As an Ukon™ DD and Kangen Water® customer, you'll be on the fast track to 6A! And since Kangen Ukon™ DD customers receive shipments every 4 months, you will be compensated every time their account automatically renews! In other words, this is an opportunity to advance in your Kangen Water® Business AND receive additional reoccurring income.
Here's how it works:
Kangen Ukon™ DD sales count as an Enagic® machine sale. This means all your Ukon™ DD sales will count toward your Kangen Water® rank promotions. For example, 2 machine sales and 1 Ukon™ DD sale will promote you to 2A.
Each point is worth 32 € for a 4-month supply of Kangen Ukon™ DD. When a customer signs up for Ukon™ DD, they agree to the terms of the auto-ship program, and they will automatically receive Ukon™ DD every 4 months. As a result, you will receive a commission every 4 months for each Ukon™ DD customer, within only a few business days after receipt of payment.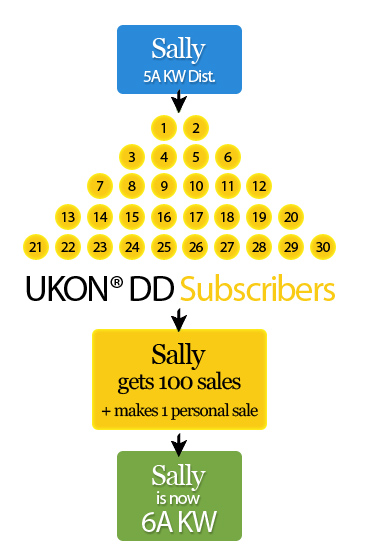 There are 2 types of Ukon™ DD customers: New Customers and Kangen Water® Customers. Let's see how the point system works for each of these categories.
NEW CUSTOMERS
If you sell Ukon™ DD to a brand new customer, you will be paid the same amount of points as your Kangen Water® rank. For instance, if you are a 6A and sell Ukon™ DD to a new customer who has not previously purchased a machine, you will earn 6 Ukon points, or 192 € (remember, each Ukon point is 32 €).
Kangen Water® CUSTOMERS
If your downline partner buys Ukon™ DD under her/himself, or team member in your downline, you will be paid according to which leg that downline customer is in. For example, an Ukon™ DD sale to a customer in your 3A leg will give you 3 points (96 €), even if you are currently a 6A. This also applies to sales for yourself! As a Kangen Water® distributor, when you purchase Ukon™ DD, you will receive the same amount of points as your Kangen Water® rank. So if you are a 3A, you'll be paid 96 € for your own Ukon™ DD purchase! And since Kangen Water® customers are already getting a discount on Ukon™ DD (500 € versus 530 €), this extra commission for your own purchase makes Ukon™ DD an incredible value!
Just like with Kangen Water®, Enagic® pays 8 points for every Ukon™ DD sale. The points are paid from the bottom up until they are completely paid out.