Your home spa system
ANESPA DX produces a continuous stream of healthy ionized mineral water. With a new, larger ceramic cartridge that removes almost 100% of chlorine and other harmful substances in your tap water, and adds safe, moisturizing minerals that are healthy for your skin and hair. Enjoy a lovely shower or bath in ANESPA DX hot spring water!
Warranty: 3-year full.

Price: Contact a distributor
View Operation Manual
Nombre de modelo / Número

Anespa / ANSP-01

Conexión de alimentación de agua

Conexión de suministro de agua de tipo cerrado

Fuente de alimentación eléctrica

N/A

Consumo de energía

N/A

Sistema

Activador de agua mineralizada

Tasa de producción (litros/minuto)

9,84-15,14

Selección de niveles

N/A

Capacidad de electrólisis (uso continuo)

N/A

Limpieza de la célula

N/A

Calidad y presión del agua

Solución para potenciar electrólisis

N/N

Rellenar solución

N/A

Protector

Limitador de agua

Material del electrodo

N/A

Placas del electrodo

0
El ANESPA contiene una mezcla de componentes naturales de fuentes termales así como minerales que hacen que el agua quede ligeramente alcalina y ¡muy relajante!

Tufa

Piedra mineral recogida directamente de las fuentes termales Futamata en Hokkaido, Japón. Gracias a ella el agua surte el mismo efecto suave y relajante que una fuente termal.


Piedra MIC

Genera agua activada y ligeramente alcalina, buena para la piel.


Piedra Power

Genera fuertes iones negativos.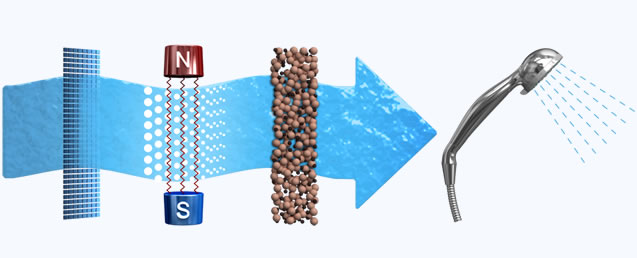 1. Filtro externo
La primera tarea consta en filtrar los compotentes nocivos del agua: cloro, trihalometanos, fenoles, sedimentos, olores, sabores y residuos orgánicos.
Los aparatos de Enagic lo logran mediante un filtro multietápico de carbón activado que contiene carbón activado granular antibacteriano y sulfito de calcio.
2. Imán de neodimio
Este imán de alta calidad es capaz de romper las agrupaciones de moléculas (clusters) del agua en menores dimensiones, para activarla y transformarla en agua ligeramente estimulada. A su vez le posobilita absorber minerales.
3. Cartucho cerámico
El cartucho tiene un revestimiento interior cerámico, aproximadamente 3 veces más grueso que en los demás productos del mercado. Para facilitar, substancias de las termas de Futumata y Chitukan están contenidas en un sólo cartucho.
4. Agua relajante
El ANESPA crea un abundante flujo de agua caliente; 15 litros por minuto. El masaje mediante la cabeza de ducha aumenta el efecto relajante.